How to Hard Reset HIKVISION IP Camera With Button Switch
|
How to Hard Reset HIKVISION IP Camera With Button Switch – HIKVISION, is one of the leading IP camera manufacturers in the world today. HIKVISION develops on technological innovation, product, and implementation. Hikvision is a security system company that is very concerned about the quality of their products. This is evidenced by their seriousness to form a competent RND team in their fields and ready to get down to procurement projects that require a special assessment.
Hikvision Dome IP Camera has a digital streaming resolution of up to 2 Megapixels. Streaming video using high compression ratio so as not to overload the network infrastructure. This CCTV has been equipped with POE (Power over Ethernet) and High-Performance Infrared Led. Video results can be saved to NVR or Micro SD Card. HikVision Dome IP Camera uses vandal-proof cover to ensure the security system works optimally.
How to Hard Reset HIKVISION IP Camera With Button Switch:
There are several reasons why someone reset their camera.  Here's how to reset a Hikvision IP camera to factory default settings using reset switch button inside a camera:
Disconnect the IP camera from power adaptor
Disconnect Ethernet cable
Unscrew the IP camera
Locate and then press the reset button inside the IP camera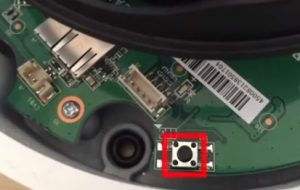 Continue to hold Reset button and then connect power supply 12V and Ethernet or POE cable to the camera
Wait for 20 seconds
Screw back the IP Camera
Finally, open the IP camera's webpage using default IP Address and login credentials.
For more details please watch the following video:
Note: This is a hardware reset, all parameters of the IP camera will be reset! Hopefully, the article of How to Hard Reset HIKVISION IP Camera With Button Switch can solve your problem. Good Luck! 😀
(Visited 173 times, 1 visits today)